In recent days, Israel has significantly increased its ground invasion.
This comes after the terror attack in southern Israel by the Palestinian militant group Hamas on Oct. 7, which killed approximately 1,200 people and took over 240 hostages.
The Gaza Strip, home to 2.3 million people and roughly twice the size of Washington, D.C., is one of the world's most densely populated areas.
According to the Israel Defense Forces, they warn civilians to flee ahead of bombings and target areas based on Hamas positions.
According to Palestinian residents, every day in the Gaza Strip brings desperate uncertainty as the war escalates.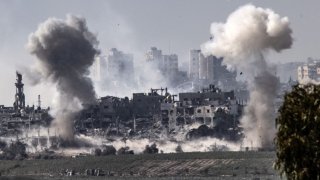 Israel's Prime Minister, Benjamin Netanyahu, confirmed in late October that a ground operation had begun in Gaza, with forces pushing deep into the territory in recent weeks. This comes after the terror attack in southern Israel by the Palestinian militant group Hamas on Oct. 7, which killed approximately 1,200 people and took over 240 hostages.
"The nights are the scariest and longest, as bombs rain down on Gaza incessantly." "We don't know when it will be our turn, but we expect to be bombed any minute," Shouq Al Najjar, a 28-year-old Gaza development worker, told CNBC.
After their home was bombed, Najjar and her husband had to flee to Khan Younis in Gaza's south, a city where Israeli forces had told Palestinian civilians to evacuate. Despite this, Israel has continued to bomb several areas of southern Gaza, including Khan Younis.
Najjar is currently living in a crowded house with her husband and several other relatives and children, and food and water are running low. "We are witnessing something unprecedented. "We live in constant fear, and our survival feels precarious," she told CNBC.
The Gaza Strip, home to 2.3 million people and roughly twice the size of Washington, D.C., is one of the world's most densely populated areas. For more than 16 years, Israel has imposed a land, air, and sea blockade, severely restricting residents' freedoms and leading Human Rights Watch and the United Nations to label it a "open-air prison."
Israel imposed the blockade after the Palestinian militant group Hamas took control of the territory in 2007, claiming it was for Israeli security. Since its initial victory in 2006, Hamas has not held an election in Gaza. The United Nations considers Israel to be an occupier of the Palestinian territories of the West Bank and Gaza.
Mounting deaths
The Israeli government has warned that this will be a "long war" against Hamas, as the death toll rises by the day. According to the Hamas-run health authority, over 11,000 Palestinians have been killed in the besieged enclave. According to Save the Children, more children have been killed in Gaza in the last four weeks than in any other global conflict since 2019.
Netanyahu has stated that Israel's military will not stop fighting until Hamas is defeated, and he has rejected international calls for a cease-fire. The IDF claims it does not target civilians and accuses Hamas of constructing an underground network of tunnels beneath critical civilian facilities and using Palestinians as human shields.
"After the first five days of the aggression, the [Israeli] army ordered the evacuation of everyone in Gaza City and North Gaza to the south." Then they targeted the areas where Palestinians had been evacuated', said Sami Zakout, 58, deputy director of the Mezan Centre for Human Rights, a non-partisan, non-governmental human rights organisation based in Gaza. He was speaking via voice note in Rafah, near the only uncontrolled exit point from the Gaza Strip.
Zakout and his family fled to Rafah, which borders Egypt, from their home in Gaza City. He claimed that other people who attempted to flee were killed, though CNBC could not confirm this.
"This is the first time I've witnessed such genocide." It is truly genocide. "Especially when they use warplanes and massive bombs that target civilians and civil buildings," Zakout said. According to an IDF spokesperson, Israel follows international law and takes reasonable precautions to protect civilians.
Israel's justifications for targeting Hamas in civilian areas, according to Zakout, are false. "They claim to be hiding a Hamas leader with us, but the people of Gaza know it's a lie." On the ground, Hamas has no position. Nobody knows where they are because they are underground in tunnels."
The IDF claims that it warns civilians to flee ahead of bombings and that it targets areas based on Hamas positions. According to the World Health Organisation, Zakout is one of approximately 1.5 million people in Gaza who have been displaced.
"A humanitarian ceasefire is now required to provide some relief to people, to help scale up our humanitarian operations, and to continue to respond to the huge and immense population," Juliette Touma, director of communications for the UN Relief and Works Agency for Palestinian Refugees, told CNBC.
Medical treatment by cell phone light
According to the WHO and the Palestinian Red Crescent Society, Palestinian doctors in Gaza are also struggling to keep up with the influx of patients, and some hospitals have run out of fuel and medicine.
According to the UN, Gaza's largest hospital, al-Shifa, is no longer operational, and the only hospital offering cancer treatment, the Turkish-Palestinian Friendship Hospital, has also run out of fuel, according to its director.
According to British-Palestinian doctor Ghassan Abu Sitta, doctors are performing surgeries without anaesthesia.
Sitta, a volunteer surgeon in Gaza, claims that the Israeli army uses white phosphorus in civilian areas. He described treating a 12-year-old boy with third-degree burns that penetrated the bone.
"I treated a female patient who had a large chemically contaminated thigh wound." "Half of the procedure was done using mobile phone light," Sitta explained to CNBC from al-Ahli Baptist Hospital.
According to the World Health Organisation, white phosphorus can cause severe burns and penetrate through bone, and it can rekindle even after treatment. According to Amnesty International and Human Rights Watch, Israel has used white phosphorus artillery shells over the Gaza City port and the Israel-Lebanon border.
The IDF said in an emailed statement to CNBC that while most artillery munitions do not contain phosphorus, some do. "Other smoke-screen shells, with white phosphorus, are not unlawful and many Western militaries possess them, including the IDF," the statement went on to say.
According to the United Nations, the use of white phosphorus in densely populated areas violates international humanitarian law.
which necessitates precautions to prevent civilian deaths. Israeli officials have denied using the chemical substance to target civilian areas.
"IDF procedures require that such shells are not used in densely populated areas, subject to certain exceptions," the Israel Defence Forces (IDF) told CNBC. "This complies with and exceeds the requirements of international law." The IDF does not use such shells for targeting or starting fires."